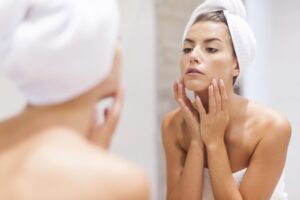 Rather than taking a reactive approach to signs of facial aging, there is an emerging aesthetic trend called "prejuventation." This non-surgical approach employs injectable products and innovative skin care solutions to address dynamic wrinkles and texture changes before they happen. Below, Atlanta plastic surgeon Thomas Lintner, MD recommends specific remedies that can help optimize overall skin health and delay—or even prevent—the need for surgical interventions.
BOTOX® Cosmetic
One of the most effective non-surgical treatments for maintaining a youthful facial appearance is BOTOX® Cosmetic, an FDA-approved injectable neurotoxin. BOTOX® Cosmetic is commonly known for its ability to temporarily diminish the appearance of dynamic wrinkles by relaxing the muscles around the injection site(s). However, regular injections can also help prevent the development of new wrinkles by halting the repetitive facial contractions that cause them. Many younger patients are now getting "Baby BOTOX®" injections, where smaller amounts of the neurotoxin are administered as a proactive treatment for frown lines, crow's feet, and forehead wrinkles.
Medical-Grade Skin Care Products
Glowing, supple skin can be achieved at any age by prioritizing a proper skin care regimen. Dr. Lintner encourages patients to use physician-grade skin care products, especially moisturizers and sunscreens, as they are formulated with higher concentrations of active ingredients to hydrate and nourish the skin. Consistent, long-term use of products designed for your specific skin type and lifestyle can be an excellent way to address common aesthetic concerns, including acne, uneven texture, discoloration, and dryness. Our skin care experts at Advanced Aesthetic Surgery are always happy to consult with patients and help them select the best products for their needs.
In addition to BOTOX® Cosmetic and medical-grade skincare, Dr. Lintner and his team also offer a comprehensive selection of other non-surgical skin care treatments that can help patients look and feel refreshed. Options include microdermabrasion, intense pulsed light (IPL) therapy, chemical peels, and Morpheus8 radiofrequency microneedling. For more information about the numerous skin enhancement options available or to schedule a consultation with our team, please contact us today.