The Exilis™ Procedure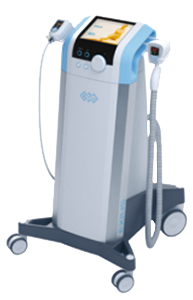 The Exilis™ procedure can be an effective way to improve your body contours and reduce excess fat and improve the appearance of the skin without the need for anesthesia, incisions, or invasive surgery. Electrical currents and radiofrequency waves utilized in the Exilis™ treatment liquefy and shrink fat from fat cells, helping patients who wish to improve contour in areas containing small pockets of excess fat. For wrinkle reduction, Exilis™ works to help the promote growth of new collagen by heating the collagen layer under the skin through ultrasound. This technique can help tighten the skin and make it appear smoother and more youthful.
The entire Exilis™ procedure usually takes about 30 to 45 minutes to complete. In many patients, the procedure takes no more than 10 or 15 minutes. One of the chief benefits of Exilis™ treatment is that you should not experience any pain during the procedure – only a mild heating effect on the skin.
The best results from the Exilis™ technique typically occur after four or five treatment sessions over a six-week period. The effects of the procedure should continue to improve over the next three months, and results are seen for 18 months to two years.
Please contact Dr. Lintner for more information on the Exilis™ technique for fat reduction and skin enhancement.