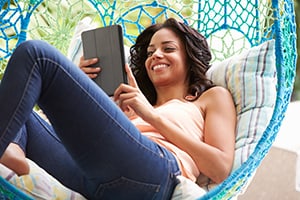 Board-certified plastic surgeon Dr. Thomas Lintner is not only skilled in performing numerous plastic surgery procedures, he can also help you determine which surgical treatment will help you get the most for your money.
Whether you are interested in a body sculpting procedure, facial plastic surgery, breast augmentation, or a skin treatment, we at Advanced Aesthetic Surgery do not want the cost of plastic surgery to hinder you from pursuing your desires for cosmetic surgery. In order to help you with the financing of your plastic surgery, our Marietta practice employs a patient care coordinator who can answer any questions you might have.
Financing Options: Helping You Finance Your Plastic Surgery
Advanced Aesthetic Surgery employs Sabrina Pope, our patient care coordinator who assists plastic surgery patients with financing options.
Applying for financing is easy. Sabrina can help you choose the appropriate plan for your plastic surgery needs. To learn more about financing options, you can email Sabrina at [email protected], Cora at [email protected], or contact Advanced Aesthetic Surgery.
We offer financing options through Prosper Healthcare Lending, Parasail, and CareCredit®. These plans enable our patients to make monthly payments that fit within their budget. Parasail searches to help you find the best offer from various lenders, leading to manageable payment plans with fixed interest rates. Prosper Healthcare Lending helps patients borrow money at a low interest rate with no hidden fees. CareCredit® is a popular healthcare credit card option offering patients the ability to finance their procedures with low to no interest rates.
Below, you can apply for one or multiple available financing options to see which one will work best for you. If you have any questions, please do not hesitate to contact our office; we will be happy to help guide you through the process.
Click here to apply for a payment plan with Prosper Healthcare Lending.

To learn more about financing options and the procedures offered at Advanced Aesthetic Surgery, schedule a plastic surgery consultation with cosmetic surgeon Thomas B. Lintner, MD, FACS.