In patient consultations, Dr. Thomas Lintner uses VECTRA® 3D Imaging technology to help demonstrate potential results. This state-of-the-art technology allows you to envision what your results can look like from certain procedures, which can help you to better understand your options and make more informed decisions prior to surgery.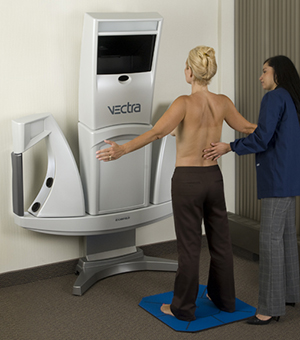 Using a digital scan of the area, Dr. Lintner can create a 3D image of your breasts. Your initial VECTRA® 3D Imaging scan can be adjusted to show a variety of different potential outcomes, based on your aesthetic goals, medical information, and Dr. Lintner's recommendations. The resulting 3D image, which can be viewed from various angles, can help you and Dr. Lintner work together to decide which breast implant size and shape is right for you. To assist with patient education, Dr. Lintner encourages patients to take this opportunity to ask any questions about the surgery. Your input allows him to make adjustments to the image, as well as your treatment plan, in order to create the best possible results.
Using VECTRA® 3D Imaging can be helpful for personalizing a variety of breast procedures, including breast augmentation, breast lift, and breast reduction. Although it is important to remember that no technology can be 100 percent accurate in trying to predict the future, with VECTRA® 3D Imaging, you can get a realistic preview of what your results can potentially look like from your chosen procedure.
To learn more about VECTRA® 3D Imaging, or to schedule a consultation with Dr. Thomas Lintner, please contact Advanced Aesthetic Surgery today.