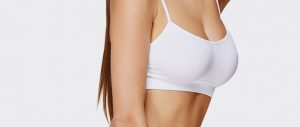 Most patients seek a breast reduction for aesthetic purposes, improved comfort, or a combination of these two reasons. While the reasons behind the decision to pursue breast reduction are personal, Dr. Thomas Lintner, our board-certified plastic surgeon, can tailor the surgery to achieve your treatment goals while producing results that look exceptionally natural. For the right candidate, breast reduction can be a powerful solution to the aesthetic and functional burdens created by overly large breasts.
Am I a Candidate for Breast Reduction?
Excessively large breasts can often lead to physical and/or emotional issues, including chronic pain. Women who experience the negative side effects associated with overly large breasts may be considered candidates for breast reduction. Some signs that breast reduction might be right for you include:
Chronic back, neck, and shoulder pain
Inability to find properly fitting clothes
Irritation and pain from bra straps digging into your shoulders
Unable to participate in certain physical activities, due to breast discomfort
Difficulty finding comfortable and supportive bras
Feeling self-conscious of your large breasts and/or having low self-esteem because of them
Rashes and irritation beneath and between the breasts
In a consultation with Dr. Lintner, he can assess your unique needs, answer any questions you may have, and help you determine if you are a good candidate for this procedure.
Can I Get a Breast Reduction and Lift?
Patients undergoing a breast reduction typically experience a more lifted breast appearance as a natural byproduct of the procedure. Removing a significant amount of excess tissue and skin, reshaping the breasts, and repositioning the nipple helps to elevate the breasts to a more perky, youthful position on the chest wall—providing many of the same benefits as a breast lift. During your consultation, Dr. Lintner can review the specifics of your case and make personalized recommendations based on your needs. This may sometimes involve incorporating a more intentional amount of lifting into the breast reduction procedure, with the ultimate goal of helping you feel like the most comfortable, confident, and beautiful version of yourself.
How is Breast Reduction Surgery Performed?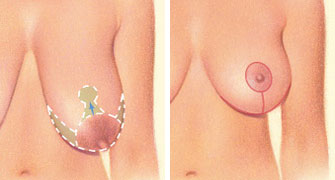 To ensure the best possible outcome, Dr. Lintner uses the "anchor" incision for breast reduction surgery. This involves an incision that encircles the areola, then travels vertically down the center of the breast from the bottom of the areola to the breast crease. A third incision is then made along the inframammary fold, ultimately resulting in what looks like an anchor. This technique is also commonly referred to as an "inverted T" incision. Once incisions have been made, excess tissue and skin can be removed. Next, the nipples and breasts are elevated to a higher position on the chest wall, and incisions are closed. Areola size can be addressed at this time, as well, if desired.
What is Breast Reduction Recovery Like?
After breast reduction surgery, it is best to avoid strenuous activities (including going to the gym) for about three to four weeks. Most patients are able to resume work and most daily activities after approximately two weeks. Pain during recovery is usually minimal, but any mild discomfort that you experience can usually be treated with medication. It is fairly common for breasts to appear larger than they will ultimately be, due to swelling. This will gradually go down over time, and most swelling should be resolved after three to four weeks.
How Much Reduction is Possible?
It is very common for breast reduction patients to be unsure of how to determine the proper size for their new breasts. To facilitate this process, Dr. Thomas Lintner meets with each patient, allowing him to assess their unique body shape and suggest an appropriate new cup size. Although some women may be so uncomfortable with their large breasts that they request to have them reduced all the way to an "A" cup, Dr. Lintner prefers to keep breast size proportionate to the patient's body.
Since breast reduction often enables patients to become more active, potential weight loss is also taken into consideration when determining the appropriate size. This approach is designed to give the breasts a natural appearance that complements the patient's unique body frame. In some cases, Dr. Lintner may recommend body contouring in conjunction with a breast reduction, to maintain proper proportions for your figure. Depending on your individual situation, you may only need a breast lift, as opposed to a breast reduction. If that is the case, Dr. Lintner can review your options with you and help you select the procedure that can best meet your needs.
Will I Have Noticeable Breast Reduction Scars?
Dr. Lintner places all incisions skillfully and carefully in a way that can provide patients with the most inconspicuous scars possible. As the scars heal, they should also begin to fade. To ensure proper healing takes place, it is crucial to follow Dr. Lintner's post-op instructions. Ultimately, the relief from pain, boost in self-confidence, and other benefits of breast reduction tend to outweigh any concern patients may have about residual scarring.
What Are the Risks Associated with Breast Reduction?
While complications are quite rare, specific risks associated with breast reduction can include changes in nipple or breast sensation, an inability to breastfeed (if special surgical techniques are not used), asymmetrical breasts, thickened scars, and nipple loss. That said, choosing a highly experienced, board-certified plastic surgeon like Dr. Lintner to perform your breast reduction can help to further reduce your chances of experiencing any of these already relatively rare complications. Following your surgeon's pre- and post-procedure instructions also plays a key part in ensuring a safe, successful outcome. Dr. Lintner takes great care to provide comprehensive and personalized treatment information for his patients, educating them about procedural details and the overall risks and rewards so they can make a fully informed decision.
Does Insurance Cover Breast Reduction?
Breast reduction surgery may be either partially or fully covered by some health insurance providers. However, patients must typically meet certain criteria proving the procedure is "medically necessary" in order to receive coverage. Proper medical documentation demonstrating substantial long-term physical symptoms will likely be required, which may include the following:
Letter(s) from a primary care provider or specialist (such as a dermatologist or physical therapist) detailing your symptoms 
Medical records outlining alternative treatments you have tried (such as weight loss, chiropractic adjustments, or dermatological interventions)
A letter from your surgeon detailing how much breast tissue (calculated in terms of weight) will be removed during the procedure
Pre-operative photos of your breasts
A negative mammogram screening
It's best to contact your insurance provider directly in order to determine which qualifications must be met to receive coverage. You may also wish to start the documentation process as early as possible, as many insurance companies require patients to attempt alternative treatments for at least 6-12 months prior to being eligible for a surgical breast reduction. During your consultation, our knowledgeable team can help you navigate any insurance concerns to ensure you receive the maximum amount of coverage available. 
Learn More About Breast Reduction
Read Dr. Lintner's insights on breast reduction below. The document will not only provide you with his personal thoughts on the surgery, but it will also answer some of the initial questions you may have on the topic. To schedule a breast surgery consultation with Dr. Lintner, contact us today.