Skip to main content
Home|Breast Surgery|Breast Lift with Implants
Breast Lift with Implants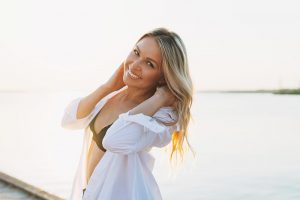 The effects of age, gravity, and pregnancy can result in deflated breast volume simultaneous to increased skin laxity, often causing the breasts to sag and lose their shape. While this is an aesthetic concern experienced by many women, a breast lift with implants can be performed to improve the volume, shape, positioning, and projection of the breasts all at once for the ultimate rejuvenation. This combination surgery integrates a breast lift with the placement of saline or silicone breast implants to produce a more youthful breast appearance and/or restore the pre-pregnancy breast size and shape.
What is a Breast Lift with Implants?
A breast lift with implants is a procedure performed by board-certified plastic surgeon Thomas Lintner, MD to correct breast sag while adding volume and shape to the breasts, resulting in improved contours. Combining the goals of a breast augmentation and a breast lift, this surgery can create the ideal breast proportions by elevating the breasts to a more youthful positioning while placing saline or silicone implants to enhance the breast shape and size. Dr. Lintner will thoroughly discuss the different options for your implant type, size, and location, as well as the best lift technique for your needs, so you can make the right decisions for your health and appearance. We encourage you to bring pictures of your desired look to your consultation to give Dr. Lintner a comprehensive understanding of what you are hoping to achieve.
Who is a Good Candidate for a Breast Lift with Implants?
Women who would like to enhance their breast volume, but struggle with some degree of breast ptosis (sag) can benefit from a breast lift with implants. Additionally, good candidates should be in relatively good health and maintain realistic expectations for the procedure. This combination surgery can be an excellent treatment option for patients who wish to:
Lift the breasts to a more rejuvenated positioning on the chest wall
Achieve a larger breast size
Enhance the shape and symmetry of the breasts
Minimize breast sag
Dr. Lintner will listen carefully to your concerns during a consultation to help you determine whether a breast lift with implants is the best treatment to achieve your aesthetic goals. As an option popularly incorporated into a full Mommy Makeover, a breast lift with implants can provide excellent results for patients who have lost breast volume, firmness, and projection after pregnancy and nursing.
How is the Breast Lift with Augmentation Procedure Performed?
Before surgery, Dr. Lintner will review your concerns, medical history, and unique needs to confirm your candidacy for a breast lift with implants. You will have the opportunity to "try on" different implant sizes prior to your procedure to help you get an idea of how an implant may affect your entire appearance. Many patients are unsure about which implant size is the best choice for their aesthetic goals, but our team can make the selection process easy.
A breast lift with implants is an outpatient surgery typically performed under general anesthesia. Dr. Lintner will first perform the lift portion of the procedure by removing and tightening excess tissue, as well as elevating the breasts' positioning. The surgery utilizes the same incisions as a breast lift, with either the "anchor" technique or the "donut" technique used, depending on the extent of your concerns. He will then create a pocket for implant placement and insert the implants using the same incisions used for the lift component of surgery.
What is Breast Augmentation with a Lift Recovery Like?
We encourage you to rest for a few hours after being driven home by a friend or family member, but Dr. Lintner recommends getting up and walking around as soon as you feel up to it. You may experience feelings of soreness, tiredness, swelling, or tightness in the chest after the procedure; these reactions are normal and can be controlled with oral pain medication, as prescribed by Dr. Lintner. Downtime after a breast lift with implants lasts roughly one week and most patients return to work and their normal routines within one to two weeks. While you may resume light exercise after approximately four weeks, you should continue to refrain from strenuous work and exercise for around two months.
Dr. Lintner will provide detailed recovery information specific to your treatment plan after surgery. He will monitor your progress and see you for a follow up appointment at one week, six weeks, three months, six months, and one year after your procedure. Moreover, he encourages you to return to our office each year for a complimentary check-up to ensure there are no complications and your implants are in good condition.
Dr. Lintner and his staff are absolutely the best! I had a full lift with Implants and couldn't be happier with my results! I will definitely be going back to him for any other surgeries I may want to have! Thank you!Jennifer
How Much Does a Breast Lift with Implants Cost?
A breast lift with implants can cost anywhere between $4,500 to $13,000, depending on your needs and the details of your customized treatment plan, such as the type of implants placed and the surgical technique utilized. After Dr. Lintner assesses your concerns in a consultation, our patient care coordinator can provide you with a personalized quote and complete price breakdown of your unique procedure. The cost of a breast lift with implants is often more economical than pursuing a breast lift and breast augmentation as separate surgeries.
Dr. Lintner accepts plastic surgery financing through Prosper® Healthcare Lending and Parasail®, two highly reputable healthcare lending companies that allow qualified applicants to pay for their treatment over a short or long-term period. Offering a range of low- to no-interest payment plans to choose from, patients can select the most ideal option to suit their budgetary concerns. This can make the cost of a breast lift with implants more affordable. To learn more about our accepted methods of payment, please contact our practice to speak to a member of our team.
Questions? Learn more about a breast lift with implants or schedule a consultation with Dr. Lintner by contacting our practice day.