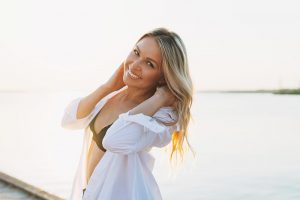 The effects of age, gravity, and pregnancy can result in deflated breast volume simultaneous to increased skin laxity, often causing the breasts to sag and lose their shape. While this is an aesthetic concern experienced by many women, a breast lift with implants can be performed to improve the volume, shape, positioning, and projection of the breasts all at once for the ultimate rejuvenation. This combination surgery integrates a breast lift with the placement of saline or silicone breast implants to produce a more youthful breast appearance and/or restore the pre-pregnancy breast size and shape.
Who is a Good Candidate for a Breast Lift with Implants?
Women who would like to enhance their breast volume, but struggle with some degree of breast ptosis (sag) can benefit from a breast lift with implants. Additionally, good candidates should be in relatively good health and maintain realistic expectations for the procedure. This combination surgery can be an excellent treatment option for patients who wish to:
Lift the breasts to a more rejuvenated positioning on the chest wall
Achieve a larger breast size
Enhance the shape and symmetry of the breasts
Minimize breast sag
Dr. Lintner will listen carefully to your concerns during a consultation to help you determine whether a breast lift with implants is the best treatment to achieve your aesthetic goals. As an option popularly incorporated into a full Mommy Makeover, a breast lift with implants can provide excellent results for patients who have lost breast volume, firmness, and projection after pregnancy and nursing.
How Long Do the Results of a Breast Lift with Implants Last?
The rejuvenating effects of a breast lift with implants can often last for 10 to 15 years—and sometimes even longer. That said, long-term outcomes may differ between patients based on variables such as genetics, the natural aging process, weight fluctuations, sun exposure, and wearing proper supportive undergarments. There is also a rare risk for breast implants to leak or rupture, build up abnormal scar tissue—a condition known as capsular contracture—or experience other complications, in which case a breast implant removal or implant exchange procedure might be recommended. Ultimately, following your surgeon's post-operative care instructions, committing to a healthy lifestyle, wearing supportive and properly sized bras, and avoiding smoking can all be beneficial in preserving your results for as long as possible.
Can I Keep My Existing Implants if I Get a Breast Lift?
It is best to consult with a board-certified plastic surgeon regarding whether your current breast implants are in good condition and properly suited to your cosmetic goals. With that said, if your implants are determined to be in adequate shape and you are not experiencing implant hardening, leaking, or signs of a rupture, there is a good chance you may be able to keep them while undergoing an augmentation mastopexy. This will be at the discretion of your surgeon, especially if issues are discovered during surgery and/or if your implants are more than 10 years old. In most cases where existing implants are elected to stay, there will likely be some degree of repositioning necessary to better align with the tissue enhancements performed during the breast lift.
Prior to surgery, Dr. Lintner will ensure all of your questions and concerns are addressed and create a personalized surgical plan tailored to help you attain your aesthetic goals.
What Will My Nipples Look Like After a Breast Lift With Implants?
Changes to the appearance of the nipple-areolar complex can occur as a result of a breast lift with implants. In many cases, this is a planned part of the procedure, with the areola and nipple being resized, reshaped, and/or elevated to a higher position on the breast to complement the results of your lift. Alternatively, if you are pleased with the appearance of your nipple-areolar complex and would like to avoid any major changes, your treatment plan can be designed to preserve the existing aesthetic as much as possible.
Some swelling and puffiness is fairly common after surgery, and the nipples may temporarily appear to be excessively elevated until your implants have had a chance to settle into the proper position. These concerns typically resolve within a few weeks after surgery, leaving behind beautiful, natural-looking breasts.