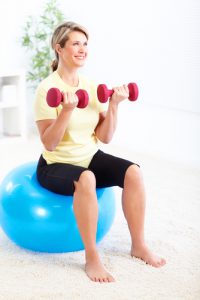 Many of my patients who are experiencing sagging breast tissue are eager to find non-surgical solutions that can elevate and reshape their breasts. There are untold numbers of articles on the Internet and in women's magazines claiming that certain chest exercises, devices, or topical solutions can enhance the position, volume, and shape of the breasts. These recommendations, however, are not based in science. The truth is, typically the only way to address inelastic skin and lax breast tissue is with surgery. When childbirth, aging, breastfeeding, weight loss, or genetic predisposition contribute to unwanted changes in the appearance of the bust, I often recommend breast lift surgery.
Having said that, chest exercises can provide a number of benefits, including enhancing the overall appearance of the body. Push-ups, bench presses, and free weight arm exercises can improve the size and tone of the pectoral muscles, located beneath the breast tissue, although not the breasts themselves. Exercise may also lead to weight loss – but both weight loss and muscle development cannot address skin and tissue inelasticity – there is even the potential for skin laxity to increase. Exercise also will not affect nipple size, shape, or location. My breast lift surgery technique is designed to address these common concerns with natural-looking, beautiful results.
Wishing to avoid surgery is understandable; however, the support structure of the breasts—the skin, fatty tissue, and ligaments—are generally immune to non-surgical methods of enhancement such as exercise. Patients should continue to visit the gym and participate in healthy cardiovascular activities, just know that these exercises will not restore the breasts to their original position. For that, they should consider a breast lift either with or without breast implants.
For additional information about breast lift surgery, or if you wish to discuss your aesthetic concerns with me personally, please contact Advanced Aesthetic Surgery today.