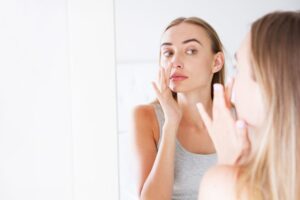 Uneven or asymmetrical nostrils are a much more common issue than most people realize. They can be a particularly frustrating problem for patients to face, as they can be the source of self-consciousness and embarrassment. Worse yet, they may be associated with a number of functional concerns, some of which can cause discomfort or complicate normal breathing patterns. 
Tom Lintner, MD, our board-certified plastic surgeon, has reduced both the appearance of uneven nostrils and the unpleasant physical symptoms that often accompany them in many patients throughout his career. In his experience, uneven nostrils are usually the result of one of these causes:
Deviated septum. Uneven nostrils are most often the result of a deviated septum, which is characterized by misalignment of the nasal septum (or the cartilage which separates the nostrils). Deviated septums can also cause frequent nosebleeds and congestion, as well as complications with airflow. It is often present at birth, but can also be the result of accident or injury.
Genetics. Heredity plays a large part in the shape and size of the nose. As such, unwanted aesthetic characteristics in the nose (e.g. uneven nostrils, bumps, etc.) often run in families.
Injury. As noted above, deviated septums (and, by extension, asymmetrical nostrils) are sometimes the result of severe injuries, such as those obtained while playing sports or in an accident.
Previous surgery. When facial surgery is performed by a qualified plastic surgeon, serious complications are seldom a risk; however, less experienced surgeons are more likely to produce unsatisfactory results. In rare cases, uneven nostrils may be the result of botched surgery.
Thankfully, Dr. Lintner is often able to reduce the appearance of uneven nostrils and similar issues with rhinoplasty. He addresses each rhinoplasty case with the intention of restoring symmetry to the face and producing aesthetically-pleasing results. For more information about uneven nostrils or the benefits of rhinoplasty, schedule a consultation with Dr. Lintner today.