Plastic Surgeon in Marietta Details What to Expect From Breast Lift Surgery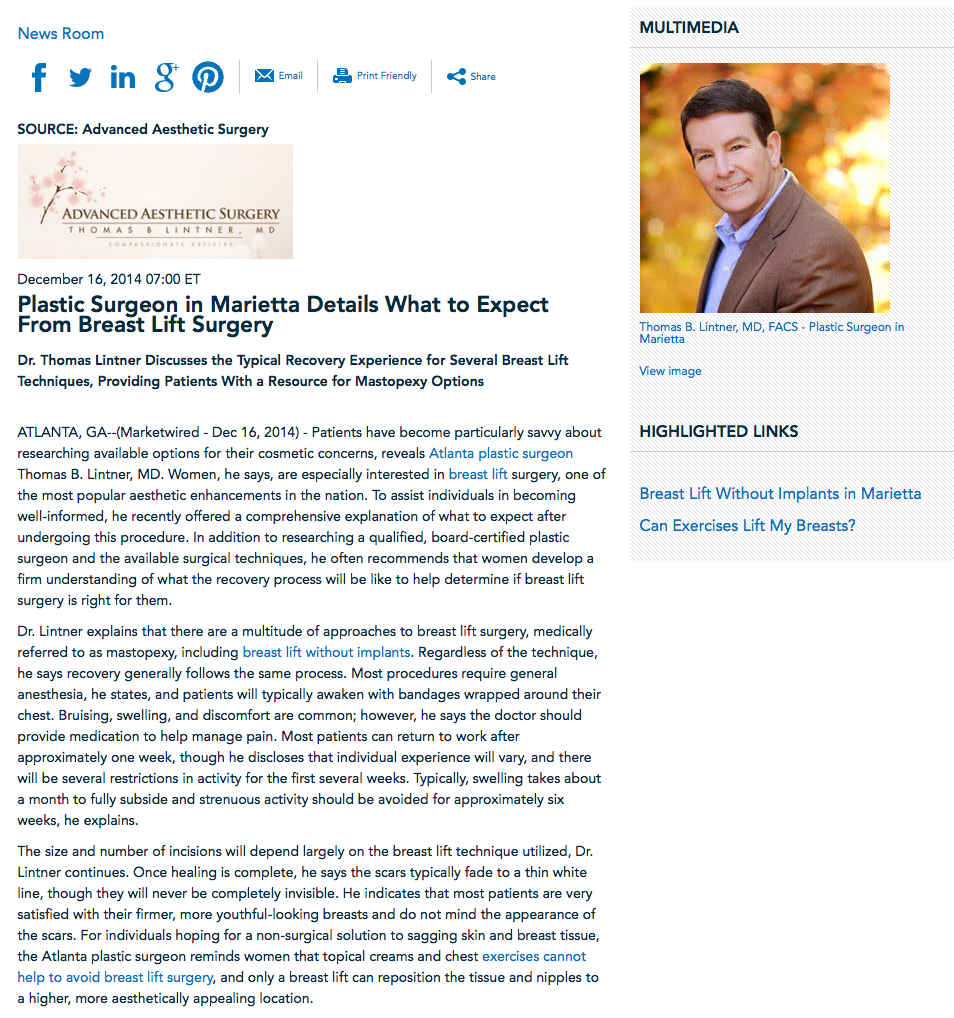 Dr. Thomas Lintner discusses the typical recovery experience for several breast lift techniques, providing patients with a resource for mastopexy options.
Atlanta, GA—Patients have become particularly savvy about researching available options for their cosmetic concerns, reveals Atlanta plastic surgeon Thomas B. Lintner, MD. Women, he says, are especially interested in breast lift surgery, one of the most popular aesthetic enhancements in the nation. To assist individuals in becoming well-informed, he recently offered a comprehensive explanation of what to expect after undergoing this procedure. In addition to researching a qualified, board-certified plastic surgeon and the available surgical techniques, he often recommends that women develop a firm understanding of what the recovery process will be like to help determine if breast lift surgery is right for them.
Dr. Lintner explains that there are a multitude of approaches to breast lift surgery, medically referred to as mastopexy, including breast lift without implants. Regardless of the technique, he says recovery generally follows the same process. Most procedures require general anesthesia, he states, and patients will typically awaken with bandages wrapped around their chest. Bruising, swelling, and discomfort are common; however, he says the doctor should provide medication to help manage pain. Most patients can return to work after approximately one week, though he discloses that individual experience will vary, and there will be several restrictions in activity for the first several weeks. Typically, swelling takes about a month to fully subside and strenuous activity should be avoided for approximately six weeks, he explains.
The size and number of incisions will depend largely on the breast lift technique utilized, Dr. Lintner continues. Once healing is complete, he says the scars typically fade to a thin white line, though they will never be completely invisible. He indicates that most patients are very satisfied with their firmer, more youthful-looking breasts and do not mind the appearance of the scars. For individuals hoping for a non-surgical solution to sagging skin and breast tissue, the Atlanta plastic surgeon reminds women that topical creams and chest exercises cannot help to avoid breast lift surgery, and only a breast lift can reposition the tissue and nipples to a higher, more aesthetically appealing location.
Ultimately, Dr. Lintner says he endeavors to provide a helpful resource on the breast lift experience from initial consultation to complete recovery, including clarifying advanced techniques and dispelling common misconceptions. By educating patients, he believes they will make more informed decisions that will lead to greater satisfaction with the outcome.
About Thomas B. Lintner, MD, FACS
A graduate of Georgetown University and Emory University School of Medicine, Dr. Lintner is a board-certified plastic surgeon, Diplomat of the American Board of Plastic Surgery, and Fellow of the American College of Surgeons. He has previously served as Chief of Plastic Surgery at Wellstar Kennestone Regional Hospital. He is also an active member of several prestigious medical organizations, including the American Society of Plastic Surgeons and the American Society for Aesthetic Plastic Surgery. He is available for interview upon request.
For more information about Dr. Lintner and his practice, please visit tomlintnermd.com and facebook.com/tomlintnermd.
Contact:
Advanced Aesthetic Surgery
Marietta Office:
711 Canton Rd. NE, Ste. 400
Marietta, GA 30060
(770) 771-5151
Woodstock Office:
120 N. Medical Pkwy., Ste. 200
Woodstock, GA 30189
(770) 771-5151
Rosemont Media
(858) 200-0044
www.rosemontmedia.com