Potential Mommy Makeover Patients Gain Advice From Plastic Surgeon in Atlanta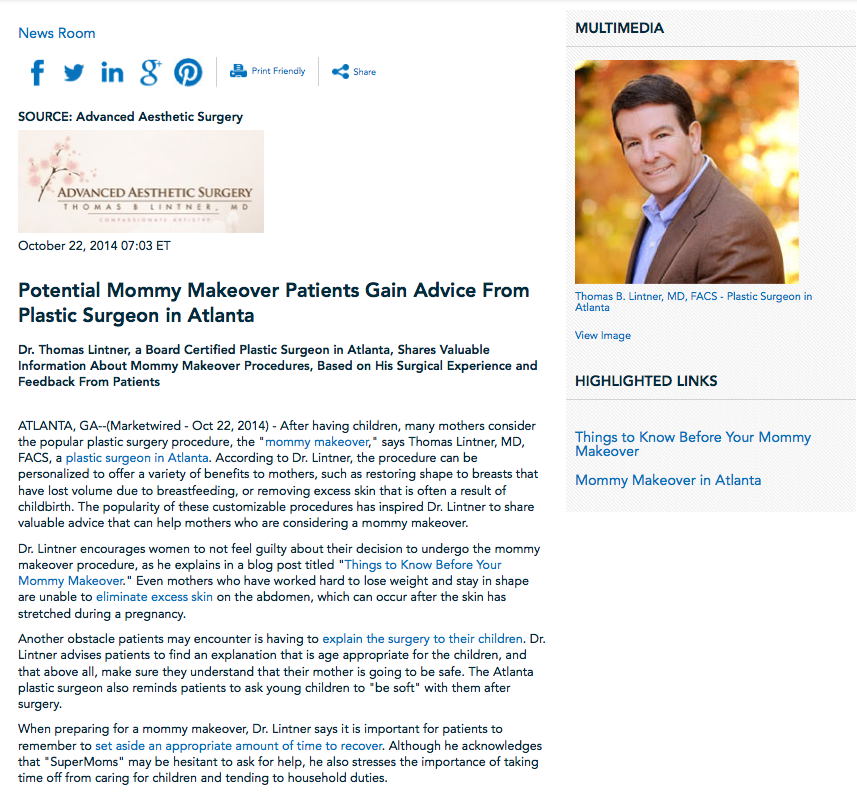 Dr. Thomas Lintner, a board certified plastic surgeon in Atlanta, shares valuable information about mommy makeover procedures, based on his surgical experience and feedback from patients.
Atlanta, GA — After having children, many mothers consider the popular plastic surgery procedure, the "mommy makeover," says Thomas Lintner, MD, FACS, a plastic surgeon in Atlanta. According to Dr. Lintner, the procedure can be personalized to offer a variety of benefits to mothers, such as restoring shape to breasts that have lost volume due to breastfeeding, or removing excess skin that is often a result of childbirth. The popularity of these customizable procedures has inspired Dr. Lintner to share valuable advice that can help mothers who are considering a mommy makeover.
Dr. Lintner encourages women to not feel guilty about their decision to undergo the mommy makeover procedure, as he explains in a blog post titled "Things to Know Before Your Mommy Makeover." Even mothers who have worked hard to lose weight and stay in shape are unable to eliminate excess skin on the abdomen, which can occur after the skin has stretched during a pregnancy.
Another obstacle patients may encounter is having to explain the surgery to their children. Dr. Lintner advises patients to find an explanation that is age appropriate for the children, and that above all, make sure they understand that their mother is going to be safe. The Atlanta plastic surgeon also reminds patients to ask young children to "be soft" with them after surgery.
When preparing for a mommy makeover, Dr. Lintner says it is important for patients to remember to set aside an appropriate amount of time to recover. Although he acknowledges that "SuperMoms" may be hesitant to ask for help, he also stresses the importance of taking time off from caring for children and tending to household duties.
Although Dr. Lintner offers several tips for mommy makeover patients, there is one piece of advice that he says is ultimately the most important for patients to be aware of: "With any surgery, you need to find a board certified surgeon who is extremely comfortable and experienced with the surgery you are contemplating," he says.
About Thomas B. Lintner, MD, FACS
A Georgetown University honors graduate, Dr. Lintner earned his medical degree from Emory University School of Medicine. His work has been published in many medical and surgical journals, and he has presented to his peers, as well as the public, on specialties within both general and plastic surgery. Dr. Lintner is an active member of several distinguished medical organizations, including the American Society for Aesthetic Plastic Surgery, the American Society of Plastic Surgeons, and the Georgia Society of Plastic Surgeons. He is available for interview upon request.
To learn more about Dr. Lintner and his practice, please visit tomlintnermd.com, atlantamommymakeover.com, or facebook.com/tomlintnermd.
Contact:
Advanced Aesthetic Surgery
Marietta Office:
711 Canton Rd NE
Suite 400
Marietta, GA 30060
Woodstock Office:
120 N. Medical Parkway
Suite 200
Woodstock, GA 30189
(770) 771-5151
Rosemont Media
(858) 200-0044
www.rosemontmedia.com