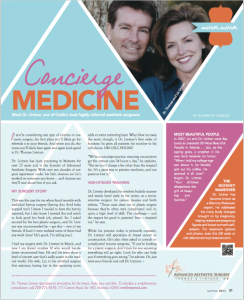 Recently, Dr. Thomas Lintner and his wife, Liz, were featured in Little Black Dress | Little Red Wagon Magazine! The publication is designed to balance the many rich and diverse characteristics of being a woman. Part of what makes the magazine unique is that it is dual-sided, and focuses on much more than motherhood — it strives to inspire readers to live "whole, authentic lives." At Advanced Aesthetic Surgery, we share this value and pride ourselves on delivering high quality, compassionate care to all our patients. In the article, the author shares a bit about her personal experience with Liz and Dr. Lintner. Read more in the feature below:
Concierge Medicine
Meet Dr. Lintner, one of Cobb's most highly referred aesthetic surgeons.
By Elizabeth Cossick
If you're considering any type of elective or cosmetic surgery, the first place you'll likely go for referrals is to your friends. And when you do, the name you'll likely hear again and again (and again) is Dr. Thomas Lintner.
Dr. Lintner has been practicing in Marietta for over 25 years and is the founder of Advanced Aesthetic Surgery. With over two decades of surgical experience under his belt, chances are he's worked on someone you know … and chances are they'll rave about him if you ask.
My Surgery Story
This was the case for me when faced recently with umbilical hernia surgery (having that third baby popped me!). I knew I needed to have the hernia repaired, but I also knew I wanted the end result to look good (no hack job, please). So, I asked around for the best plastic surgeon, and Dr. Lintner was recommended by — get this — nine of my friends. (I hadn't even realized some of them had any work done! He's good, I'm telling you.)
I had my surgery with Dr. Lintner in March, and now I am friend number 10 who would hands- down recommend him. He and his team show a level of sincere care that's sadly scarce in the medical world. His wife, Liz, is his certified surgical first assistant; having her in the operating room adds an extra nurturing layer. What blew me away the most, though, is Dr. Lintner's first order of business: he gives all patients the number to his cell phone. HIS CELL PHONE!
"We're a concierge practice, meaning our patients get the utmost care 24 hours a day," he explains. "But we don't charge a fee other than the surgical fee. It's a great way to practice medicine, and our patients love it."
High-stakes Training
Dr. Lintner developed his sensitive bedside manner and steady hand early in his career, as a reconstructive surgeon for cancer, trauma and birth defects. "These cases drew me to plastic surgery because they're often very complicated and require a high level of skill. The challenge — and the impact for good in patients' lives — inspired me," he says.
While his practice today is primarily cosmetic, Dr. Lintner still specializes in breast cancer reconstruction. He's also often asked to consult on complicated trauma surgeries. "If you're looking for a plastic surgeon, don't look for one assuming everything will go right. Look for who can help you if everything goes wrong," he advises. Or, just trust your friends and call Dr. Lintner.
Most Beautiful People
In 2007, Liz and Dr. Lintner were featured as Jezebel's 50 Most Beautiful People in Atlanta … but, as the saying goes, a prophet in his own land receives no honor. "When I told my college-age son about it, he literally spit out his coffee. Hew spewed it all over!" laughs Dr. Lintner. "Your Children always have the gift of keeping you humble."
The Mommy Makeover
Dr. Lintner has become known as a Mommy Makeover expert. He addresses the many body changes brought on by pregnancy, helping restore pre-pregnancy figures and boost women's self-esteem. For treatment options and photos, visit atlantamommymakeover.com.
Dr. Thomas Lintner specializes in procedures for the breast, body, face and skin. To schedule a complimentary consultation, call 770-771-5151; 711 Canton Road, Ste. 400, Marietta 30060; tomlintnermd.com.