In addition to being certified by the American Board of Plastic and Reconstructive Surgery, Atlanta plastic surgeon Dr. Thomas Lintner recently discussed several important factors to address when considering cosmetic enhancement surgery, and added that the basics for choosing a plastic surgeon require answers to several questions throughout the initial consultation process.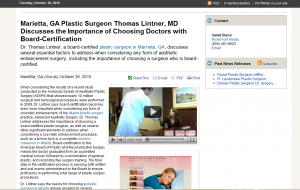 Dr. Lintner says choosing a board-certified plastic surgeon is important because it means the doctor graduated from an accredited medical school. Once they have achieved a medical degree, the doctors are required to complete a combination of general, plastic, and reconstructive surgery training, and then must pass written and oral exams administered by the Board.
Another important factor to consider when choosing a surgeon is whether they are a member of the American Society for Aesthetic Plastic Surgery. Dr. Lintner says this is of extreme importance because of the amount of experience and continuing education that is required. However in the end, whether he is performing liposuction or breast augmentation in Atlanta, Dr. Lintner says conducting research when choosing a plastic surgeon will ensure your best interests are addressed.