Thomas Lintner, MD Highlights Non-Surgical Body Contouring Treatment: SculpSure®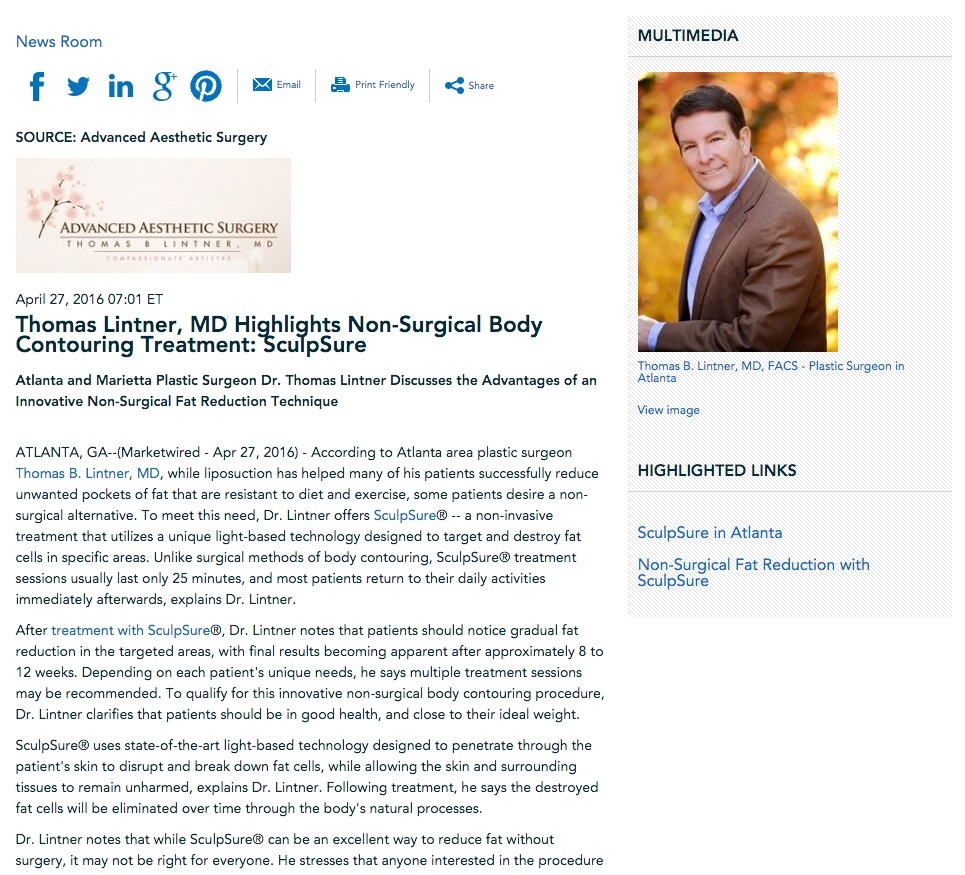 Atlanta and Marietta plastic surgeon Dr. Thomas Lintner discusses the advantages of an innovative non-surgical fat reduction technique.
Atlanta, GA — According to Atlanta area plastic surgeon Thomas B. Lintner, MD, while liposuction has helped many of his patients successfully reduce unwanted pockets of fat that are resistant to diet and exercise, some patients desire a non-surgical alternative. To meet this need, Dr. Lintner offers SculpSure® — a non-invasive treatment that utilizes a unique light-based technology designed to target and destroy fat cells in specific areas. Unlike surgical methods of body contouring, SculpSure® treatment sessions usually last only 25 minutes, and most patients return to their daily activities immediately afterwards, explains Dr. Lintner.
After treatment with SculpSure®, Dr. Lintner notes that patients should notice gradual fat reduction in the targeted areas, with final results becoming apparent after approximately 8 to 12 weeks. Depending on each patient's unique needs, he says multiple treatment sessions may be recommended. To qualify for this innovative non-surgical body contouring procedure, Dr. Lintner clarifies that patients should be in good health, and close to their ideal weight.
SculpSure® uses state-of-the-art light-based technology designed to penetrate through the patient's skin to disrupt and break down fat cells, while allowing the skin and surrounding tissues to remain unharmed, explains Dr. Lintner. Following treatment, he says the destroyed fat cells will be eliminated over time through the body's natural processes.
Dr. Lintner notes that while SculpSure® can be an excellent way to reduce fat without surgery, it may not be right for everyone. He stresses that anyone interested in the procedure should seek an experienced board-certified plastic surgeon who can help them navigate their body contouring options to find the treatment that can best address their specific concerns.
About Thomas B. Lintner, MD, FACS
Dr. Lintner is the medical director of Advanced Aesthetic Surgery, a plastic surgery practice serving the Marietta and Atlanta area. His private practice offers a wide array of surgical and non-surgical cosmetic enhancement options, including breast augmentation, mommy makeover, liposuction, BOTOX® Cosmetic, and SculpSure®. He has previously served as the Chief of Plastic Surgery at the Wellstar Kennestone Regional Hospital, where he still currently remains on staff. A Fellow of the American College of Surgeons, Dr. Lintner is also a member of several esteemed professional medical organizations, including the American Society for Aesthetic Plastic Surgery, the American Society of Plastic Surgeons, and the Georgia Society of Plastic Surgeons.
To learn more about Dr. Lintner and his practice, please visit tomlintnermd.com, atlantamommymakeover.com, and facebook.com/tomlintnermd.
Contact:
Advanced Aesthetic Surgery
Marietta Office:
711 Canton Rd NE
Suite 400
Marietta, GA 30060
Woodstock
 Office:
120 N. Medical Parkway
Suite 200
Woodstock, GA 30189
(770) 771-5151
Rosemont Media
858-200-0044
www.rosemontmedia.com