Liposuction Can Help Remove Stubborn Fat, Says Atlanta Plastic Surgeon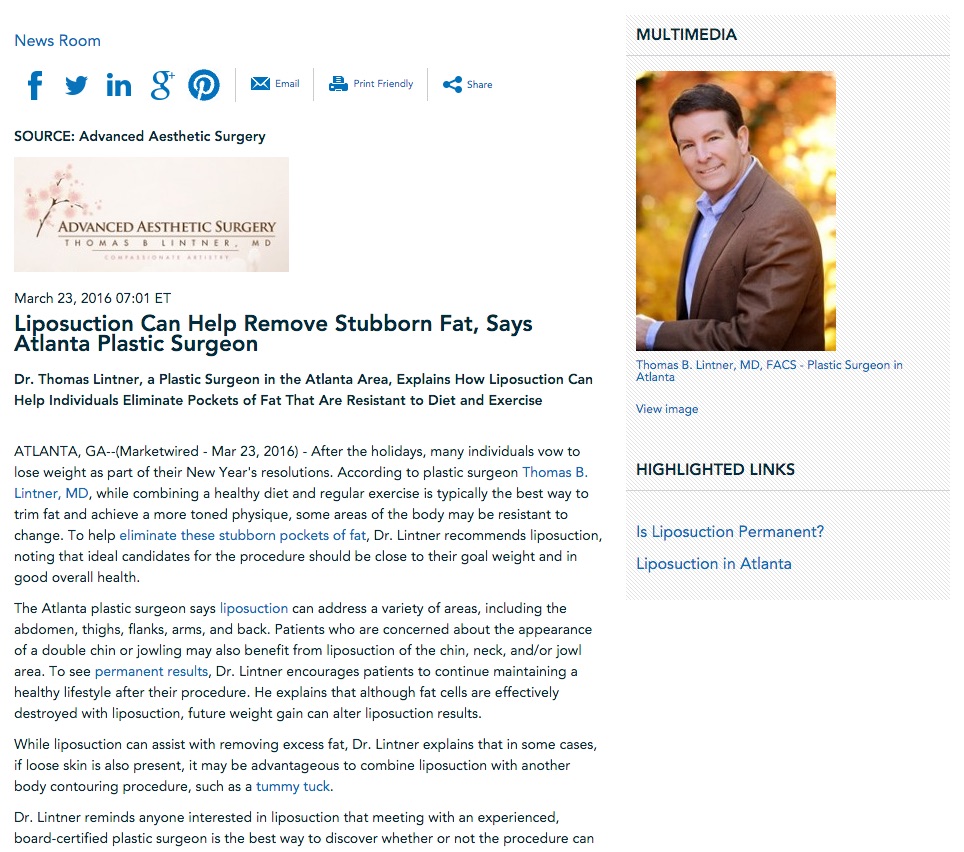 Dr. Thomas Lintner, a plastic surgeon in the Atlanta area, explains how liposuction can help individuals eliminate pockets of fat that are resistant to diet and exercise.
Atlanta, GA — After the holidays, many individuals vow to lose weight as part of their New Year's resolutions. According to plastic surgeon Thomas B. Lintner, MD, while combining a healthy diet and regular exercise is typically the best way to trim fat and achieve a more toned physique, some areas of the body may be resistant to change. To help eliminate these stubborn pockets of fat, Dr. Lintner recommends liposuction, noting that ideal candidates for the procedure should be close to their goal weight and in good overall health.
The Atlanta plastic surgeon says liposuction can address a variety of areas, including the abdomen, thighs, flanks, arms, and back. Patients who are concerned about the appearance of a double chin or jowling may also benefit from liposuction of the chin, neck, and/or jowl area. To see permanent results, Dr. Lintner encourages patients to continue maintaining a healthy lifestyle after their procedure. He explains that although fat cells are effectively destroyed with liposuction, future weight gain can alter liposuction results.
While liposuction can assist with removing excess fat, Dr. Lintner explains that in some cases, if loose skin is also present, it may be advantageous to combine liposuction with another body contouring procedure, such as a tummy tuck.
Dr. Lintner reminds anyone interested in liposuction that meeting with an experienced, board-certified plastic surgeon is the best way to discover whether or not the procedure can be a safe and appropriate solution for their specific concerns. Additionally, he says a board-certified plastic surgeon can help the patient to better understand the benefits and limitations of the procedure, allowing them to set realistic expectations.
About Thomas B. Lintner, MD, FACS
Dr. Lintner is a board-certified plastic surgeon practicing in the Atlanta and Marietta area. He is the Medical Director of his own private practice, and has served as the Chief of Plastic Surgery at the Wellstar Kennestone Regional Hospital, where he still currently holds staff privileges. Dr. Lintner is a Fellow of the American College of Surgeons, and holds membership in several elite professional organizations, including the American Society of Plastic Surgeons, the American Society for Aesthetic Plastic Surgery, and the Medical Association of Georgia.
To learn more about Dr. Lintner and his practice, visit tomlintnermd.com and facebook.com/tomlintnermd. Dr. Lintner is available for interview upon request.
Contact:
Advanced Aesthetic Surgery
Marietta Office:
711 Canton Rd NE
Suite 400
Marietta, GA 30060
Woodstock
 Office:
120 N. Medical Parkway
Suite 200
Woodstock, GA 30189
(770) 771-5151
Rosemont Media
858-200-0044
www.rosemontmedia.com