Atlanta Plastic Surgeon Answers Common Questions About Mommy Makeover Procedures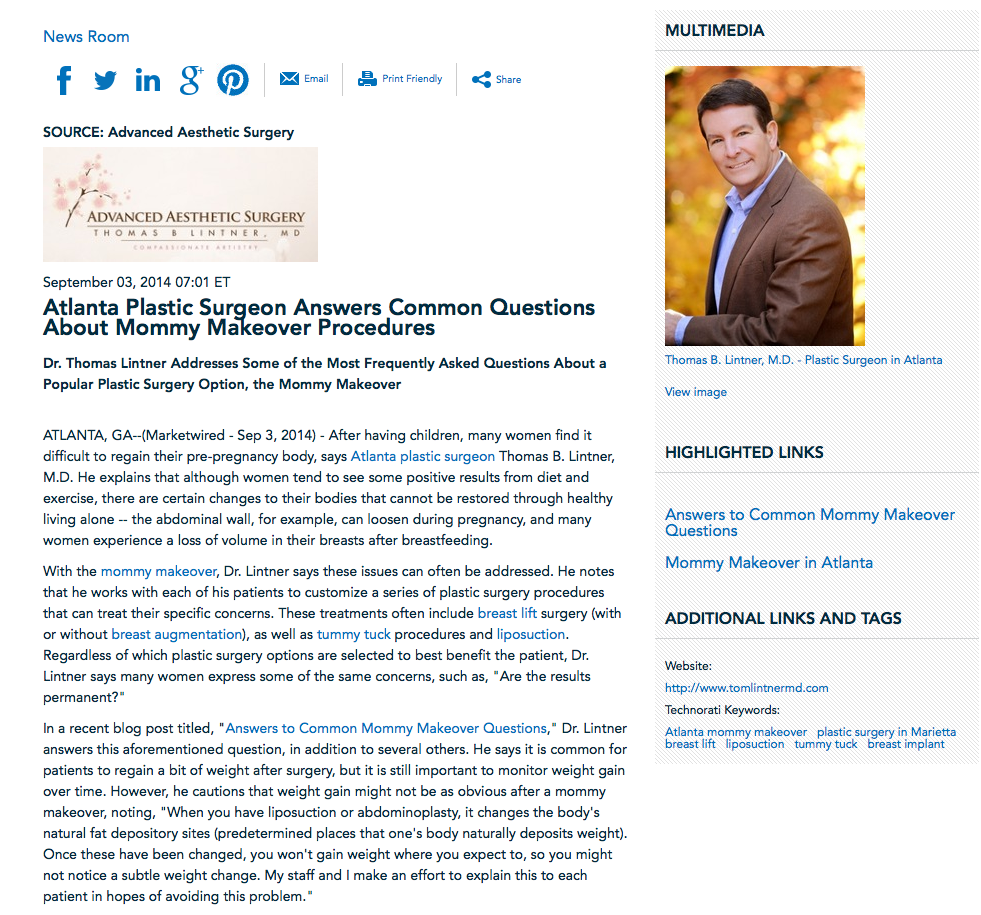 Dr. Thomas Lintner addresses some of the most frequently asked questions about a popular plastic surgery option, the mommy makeover.
Atlanta, GA — After having children, many women find it difficult to regain their pre-pregnancy body, says Atlanta plastic surgeon Thomas B. Lintner, M.D. He explains that although women tend to see some positive results from diet and exercise, there are certain changes to their bodies that cannot be restored through healthy living alone – the abdominal wall, for example, can loosen during pregnancy, and many women experience a loss of volume in their breasts after breastfeeding.
With the mommy makeover, Dr. Lintner says these issues can often be addressed. He notes that he works with each of his patients to customize a series of plastic surgery procedures that can treat their specific concerns. These treatments often include breast lift surgery (with or without breast augmentation), as well as tummy tuck procedures and liposuction. Regardless of which plastic surgery options are selected to best benefit the patient, Dr. Lintner says many women express some of the same concerns, such as, "Are the results permanent?"
In a recent blog post titled, "Answers to Common Mommy Makeover Questions," Dr. Lintner answers this aforementioned question, in addition to several others. He says it is common for patients to regain a bit of weight after surgery, but it is still important to monitor weight gain over time. However, he cautions that weight gain might not be as obvious after a mommy makeover, noting, "When you have liposuction or abdominoplasty, it changes the body's natural fat depository sites (predetermined places that one's body naturally deposits weight). Once these have been changed, you won't gain weight where you expect to, so you might not notice a subtle weight change. My staff and I make an effort to explain this to each patient in hopes of avoiding this problem."
The Atlanta plastic surgeon also addresses the importance of post-operative surgical garments. He says, "They are multi-purpose: they provide compression to assist with bleeding concerns, offer support for skin retraction, and can also serve as a gentle reminder to decrease activity during the healing period."
Ultimately, Dr. Lintner encourages patients to schedule a consultation with an experienced board-certified plastic surgeon for more personalized answers to their questions and further information about the specific mommy makeover procedures that can best treat their individual concerns.
About Thomas B. Lintner, M.D.
Dr. Lintner is a board-certified plastic surgeon in the north metro Atlanta area. He is an honors graduate of Georgetown University, and he earned his medical degree from Emory University School of Medicine. Dr. Lintner is a Fellow of the American College of Surgeons and is an active member of several distinguished medical organizations, including the American Society for Aesthetic Plastic Surgery and the American Society of Plastic Surgeons. He is available for interview upon request.
To learn more about Dr. Lintner and his practice, please visit tomlintnermd.com, atlantamommymakeover.com, or facebook.com/tomlintnermd.
Contact:
Advanced Aesthetic Surgery
Marietta Office
711 Canton Rd NE
Suite 400
Marietta, GA 30060
Woodstock Office
120 N. Medical Parkway
Suite 200
Woodstock, GA 30189
(770) 771-5151
Rosemont Media
tom@rosemontmedia.com
(858) 200-0044
www.rosemontmedia.com