Weight Loss Patients Lose Excess Skin and Improve Confidence With Help From Atlanta Plastic Surgeon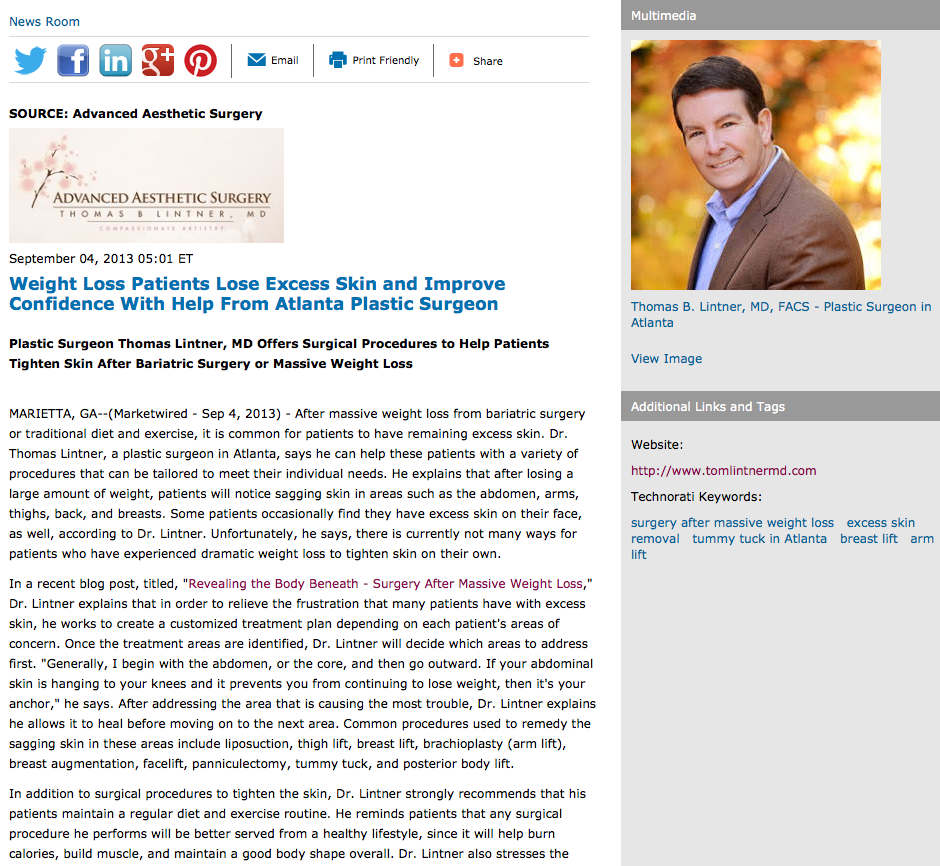 Plastic surgeon Thomas Lintner, MD offers surgical procedures to help patients tighten skin after bariatric surgery or massive weight loss.

Marietta, GA — After massive weight loss from bariatric surgery or traditional diet and exercise, it is common for patients to have remaining excess skin. Dr. Thomas Lintner, a plastic surgeon in Atlanta, says he can help these patients with a variety of procedures that can be tailored to meet their individual needs. He explains that after losing a large amount of weight, patients will notice sagging skin in areas such as the abdomen, arms, thighs, back, and breasts. Some patients occasionally find they have excess skin on their face, as well, according to Dr. Lintner. Unfortunately, he says, there is currently not many ways for patients who have experienced dramatic weight loss to tighten skin on their own.
In a recent blog post, titled, "Revealing the Body Beneath – Surgery After Massive Weight Loss," Dr. Lintner explains that in order to relieve the frustration that many patients have with excess skin, he works to create a customized treatment plan depending on each patient's areas of concern. Once the treatment areas are identified, Dr. Lintner will decide which areas to address first. "Generally, I begin with the abdomen, or the core, and then go outward. If your abdominal skin is hanging to your knees and it prevents you from continuing to lose weight, then it's your anchor," he says. After addressing the area that is causing the most trouble, Dr. Lintner explains he allows it to heal before moving on to the next area. Common procedures used to remedy the sagging skin in these areas include liposuction, thigh lift, breast lift, brachioplasty (arm lift), breast augmentation, facelift, panniculectomy, tummy tuck, and posterior body lift.
In addition to surgical procedures to tighten the skin, Dr. Lintner strongly recommends that his patients maintain a regular diet and exercise routine. He reminds patients that any surgical procedure he performs will be better served from a healthy lifestyle, since it will help burn calories, build muscle, and maintain a good body shape overall. Dr. Lintner also stresses the importance of good skin care, urging patients to stop smoking and avoid sun damage.
For patients who have had bariatric surgery, Dr. Lintner says he makes sure to communicate with their bariatric surgeon before moving forward with any surgical procedures. He says post-bariatric surgery patients are generally considered good candidates approximately 18 months after bariatric surgery. Dr. Lintner says these patients should also maintain a stable weight for at least six months, be able to absorb nutrients to heal, and no longer suffer from health concerns such as sleep apnea, diabetes or high blood pressure.
Dr. Lintner notes that weight loss patients might not be able to regain the skin they had when they were younger through skin tightening procedures, but they "are generally very pleased with their results… even years later." He says he truly enjoys working with these patients, because they tend to be enthusiastic about the difference these procedures have made for them in their lives. "It's cool to help change someone's life in that way."
About Thomas B. Lintner, MD, FACS
Dr. Lintner is board-certified in plastic and reconstructive surgery, and is a Fellow of the American College of Surgeons, as well as a Diplomat of the American Board of Plastic Surgery. He is a member of several other distinguished medical organizations and societies, including the Georgia Society of Plastic Surgeons, the American Society for Aesthetic Plastic Surgery, and the American Society of Plastic Surgeons. Dr. Lintner is available for interview upon request.
For more information about Dr. Thomas Lintner and his practice, please visit tomlintnermd.com or facebook.com/tomlintnermd.
Contact:
Advanced Aesthetic Surgery
Marietta
711 Canton Rd NE
Suite 400
Marietta, Georgia 30060
Woodstock
120 N. Medical Parkway
Suite 200
Woodstock, Georgia 30189
(770) 771-5151
Rosemont Media
tom@rosemontmedia.com
(858) 200-0044
www.rosemontmedia.com