Atlanta Plastic Surgeon Employs Molding Technology to Visualize Rhinoplasty Results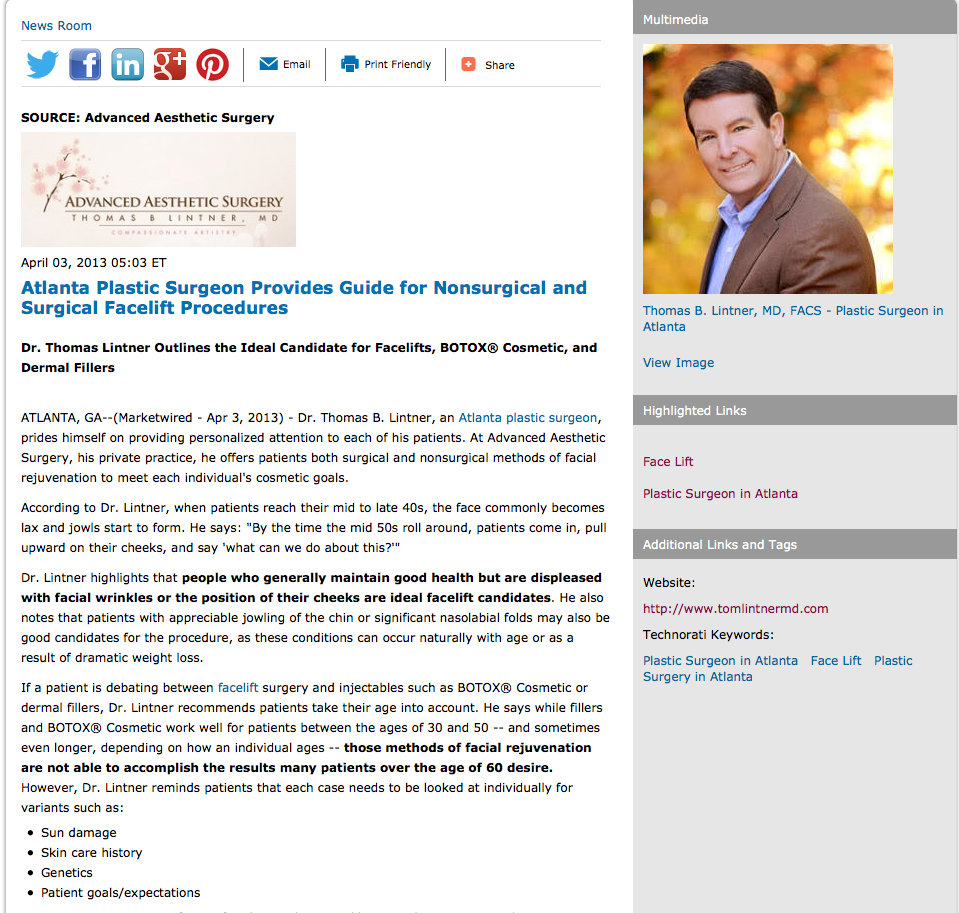 Dr. Thomas Lintner helps patients conceptualize their aesthetic goals for rhinoplasty procedures.
Atlanta, GA – Dr. Thomas B. Lintner, an Atlanta plastic surgeon, believes the goal of rhinoplasty surgery is to achieve facial balance. He does not operate under the assumption that there is one perfectly shaped nose to fit all patients. At Advanced Aesthetic Surgery, his private practice, Dr. Lintner works hand-in-hand with his rhinoplasty patients to design a nose that will harmoniously complement other facial features.
According to Dr. Lintner, patients seek rhinoplasty for two main reasons:
To correct former trauma to the nose
To resize the nose to a shape proportionate with the rest of the face
Dr. Lintner says: "Most people have very reasonable expectations for this procedure. They like their nose – they just want more refinement." Oftentimes, there is no need for patients to have their entire nose redone. Dr. Lintner assists rhinoplasty patients in deciding which part of the nose needs to be addressed in order to meet patients' goals.
At Advanced Aesthetic Surgery, Dr. Lintner's Atlanta plastic surgery patients considering rhinoplasty can preview what their new nose will look like through the use of a "morphing" program. After the patient is photographed, the software displays a postoperative visualization of how the nose will likely appear post-surgery. This morphing software ensures that Dr. Lintner and his patients both envision the same results for the procedure. Dr. Lintner notes that while the final picture is not a guarantee of a surgical result, it does help convey and clarify expectations.
Dr. Lintner highlights that people in good health with the goal of refining their nose make ideal rhinoplasty patients. He says, "Though we can't completely reconstruct a patient's nose and give them a brand new one, we can certainly make it fit their face."
Patients often tell Dr. Lintner that their postoperative pain feels very close to the pain of a sinus infection. Immediately after the procedure, patients may experience some swelling and bruising. Patients normally wear a metal splint for 7-10 days, and then a plastic moldable splint several hours a day for several weeks, depending on the patient's individual healing process. Most of Dr. Lintner's rhinoplasty patients return to their normal routine and are back to the gym within four weeks.
About Thomas B. Lintner, MD, FACS
Dr. Thomas Lintner, a dual board-certified surgeon, is a graduate of Georgetown University and earned his medical degree at Emory University School of Medicine. He is an active member on staff at Wellstar Kennestone Hospital, where he sits on the ER Services and the Medical Staff Credentialing Committees and served as Chief of Plastic Surgery in 2005. In addition, Dr. Lintner serves on the executive board of the Cobb County Medical Society. He is available for interview upon request.