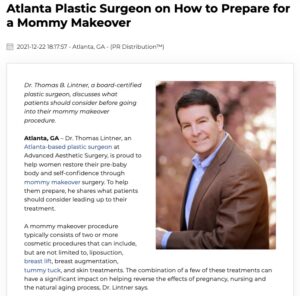 Dr. Thomas B. Lintner, a board-certified plastic surgeon, discusses what patients should consider before going into their mommy makeover procedure.
Atlanta, GA – Dr. Thomas Lintner, an Atlanta-based plastic surgeon at Advanced Aesthetic Surgery, is proud to help women restore their pre-baby body and self-confidence through mommy makeover surgery. To help them prepare, he shares what patients should consider leading up to their treatment.
A mommy makeover procedure typically consists of two or more cosmetic procedures that can include, but are not limited to, liposuction, breast lift, breast augmentation, tummy tuck, and skin treatments. The combination of a few of these treatments can have a significant impact on helping reverse the effects of pregnancy, nursing and the natural aging process, Dr. Lintner says.
At Dr. Lintner's practice in the greater Atlanta area, the mommy makeover treatment is customizable for each patient and remains flexible to meet their specific needs. Typically, Dr. Lintner and his team will discuss each patient's goals and specific desires for transforming their bodies at their initial consultation. At that time, a comprehensive plan is developed that is followed throughout the entire process, he adds.
While Dr. Lintner believes mommy makeover surgery can do wonders following pregnancy to reverse certain side effects, there are, however, measures he ideally wants his potential patients to understand and follow before pursuing this treatment. These instructions are typically given in full detail during the aforementioned consultation where the patient's plan is created. Dr. Lintner says these guidelines generally include:
Receiving a medical evaluation, often with lab tests leading up to treatment
Adjusting current medication intake or beginning new medication to aid in the process
Quitting smoking if the patients are active smokers
Eliminating the use of aspirin, anti-inflammatory drugs, and herbal supplements that can increase the risk of bleeding
Achieving and maintaining the patient's target weight and size
With proper instructions and implementation, Dr. Lintner says mommy makeover procedures can provide benefits such as addressing sagging or deflation in the breasts, restoring volume to the breasts, tightening loose or excess skin, reducing stretch marks, and diminishing signs of aging in the face.
About Thomas B. Lintner, MD, FACS
Dr. Thomas Lintner is a board-certified plastic surgeon in the Atlanta area. He is a graduate of Georgetown University and earned his medical degree from Emory University School of Medicine, where he also completed his residency training. Dr. Lintner is a Fellow of the American College of Surgeons and an active member of several prestigious medical organizations, including the Medical Association of Georgia, the American Society for Aesthetic Plastic Surgery, and the American Society of Plastic Surgeons. He is available for interview upon request.
To learn more about Dr. Lintner and his practice, please visit tomlintnermd.com, atlantamommymakeover.com, or facebook.com/tomlintnermd.
Contact:
Advanced Aesthetic Surgery
Marietta Office:
711 Canton Rd NE
Suite 400
Marietta, GA 30060
Woodstock Office:
120 N. Medical Parkway
Suite 200
Woodstock, GA 30189
(770) 771-5151
Rosemont Media
(800) 491-8623
www.rosemontmedia.com