Atlanta Plastic Surgeon Details Breast Reduction Recovery Process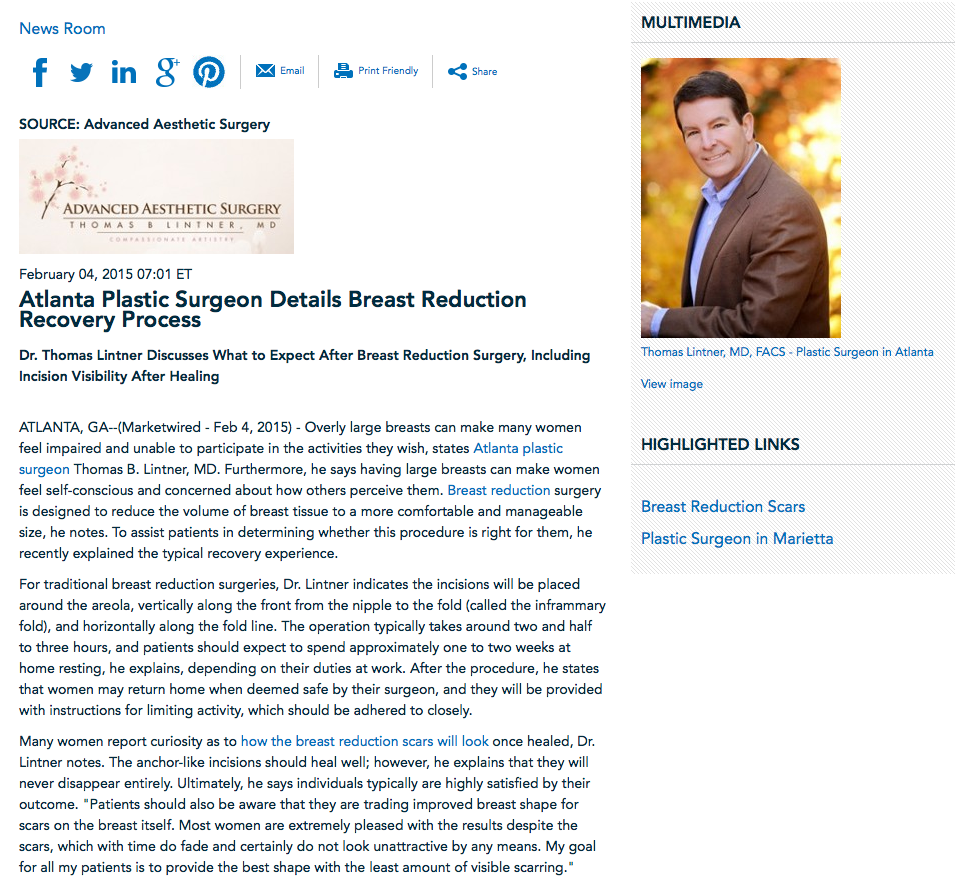 Dr. Thomas Lintner discusses what to expect after breast reduction surgery, including incision visibility after healing.
Atlanta, GA—Overly large breasts can make many women feel impaired and unable to participate in the activities they wish, states Atlanta plastic surgeon Thomas B. Lintner, MD. Furthermore, he says having large breasts can make women feel self-conscious and concerned about how others perceive them. Breast reduction surgery is designed to reduce the volume of breast tissue to a more comfortable and manageable size, he notes. To assist patients in determining whether this procedure is right for them, he recently explained the typical recovery experience.
For traditional breast reduction surgeries, Dr. Lintner indicates the incisions will be placed around the areola, vertically along the front from the nipple to the fold (called the inframmary fold), and horizontally along the fold line. The operation typically takes around two and half to three hours, and patients should expect to spend approximately one to two weeks at home resting, he explains, depending on their duties at work. After the procedure, he states that women may return home when deemed safe by their surgeon, and they will be provided with instructions for limiting activity, which should be adhered to closely.
Many women report curiosity as to how the breast reduction scars will look once healed, Dr. Lintner notes. The anchor-like incisions should heal well; however, he explains that they will never disappear entirely. Ultimately, he says individuals typically are highly satisfied by their outcome. "Patients should also be aware that they are trading improved breast shape for scars on the breast itself. Most women are extremely pleased with the results despite the scars, which with time do fade and certainly do not look unattractive by any means. My goal for all my patients is to provide the best shape with the least amount of visible scarring."
About Thomas Lintner, MD, FACS
Certified by the American Board of Plastic Surgery, Dr. Lintner earned his undergraduate degree from Georgetown University and his medical degree from Emory University School of Medicine. Previously the Chief of Plastic Surgery at Wellstar Kennestone Regional Hospital, he is also a Fellow of the American College of Surgeons and a Diplomat of the American Board of Plastic Surgery. Additionally, Dr. Lintner is an active member of numerous prestigious medical organizations, including the American Society for Plastic Surgery and the American Society of Plastic Surgeons. He is available for interview upon request.
For more information about Dr. Lintner and his practice, please visit tomlintnermd.com and facebook.com/tomlintnermd.
Contact:
Advanced Aesthetic Surgery
Marietta Office:
711 Canton Rd. NE, Ste. 400
Marietta, GA 30060
(770) 771-5151
Woodstock Office:
120N. Medical Pkwy., Ste. 200
Woodstock, GA 30189
(770) 771-5151
Rosemont Media
(858) 200-0044
www.rosemontmedia.com