Atlanta Plastic Surgeon Discusses Breast Augmentation Candidacy and Implant Placement Options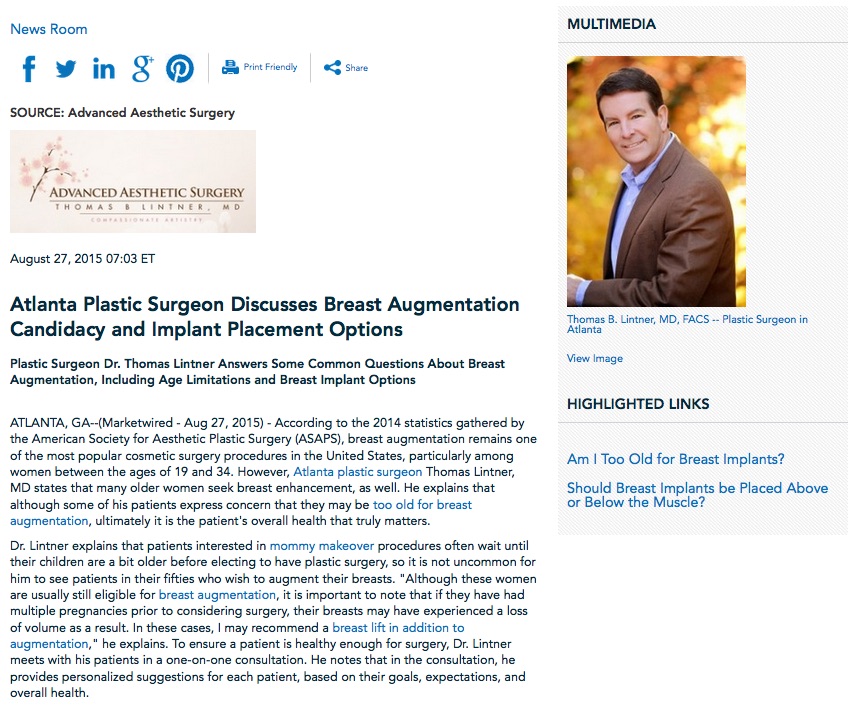 Plastic surgeon Dr. Thomas Lintner answers some common questions about breast augmentation, including age limitations and breast implant options.
Atlanta, GA — According to the 2014 statistics gathered by the American Society for Aesthetic Plastic Surgery (ASAPS), breast augmentation remains one of the most popular cosmetic surgery procedures in the United States, particularly among women between the ages of 19 and 34. However, Atlanta plastic surgeon Thomas Lintner, MD states that many older women seek breast enhancement, as well. He explains that although some of his patients express concern that they may be too old for breast augmentation, ultimately it is the patient's overall health that truly matters.
Dr. Lintner explains that patients interested in mommy makeover procedures often wait until their children are a bit older before electing to have plastic surgery, so it is not uncommon for him to see patients in their fifties who wish to augment their breasts. "Although these women are usually still eligible for breast augmentation, it is important to note that if they have had multiple pregnancies prior to considering surgery, their breasts may have experienced a loss of volume as a result. In these cases, I may recommend a breast lift in addition to augmentation," he explains. To ensure a patient is healthy enough for surgery, Dr. Lintner meets with his patients in a one-on-one consultation. He notes that in the consultation, he provides personalized suggestions for each patient, based on their goals, expectations, and overall health.
In addition to age, Dr. Lintner says another common concern for breast augmentation patients  is selecting the appropriate implant placement. Dr. Lintner explains that breast implants can be placed either over or under the pectoral muscle, and patients often ask which implant placement will yield the most natural-looking results. According to Dr. Lintner, the ideal breast implant placement depends on factors such as the patient's natural breast shape, available breast tissue, and skin thickness.
Regardless of age or body type, Dr. Lintner says the best way to find out the answers to these common questions about breast augmentation is to seek the advice of an experienced, board-certified plastic surgeon.
About Thomas B. Lintner, MD, FACS
Dr. Lintner is a board-certified plastic surgeon in the Atlanta and Marietta area. After graduating with honors from Georgetown University, he earned his medical degree and completed his general surgery and plastic surgery residency programs at Emory University School of Medicine. Dr. Lintner has served as the Chief of Plastic Surgery at the Wellstar Kennestone Regional Hospital, and currently remains active as a staff member. He is also a Fellow of the American College of Surgeons and a member of several prestigious organizations, including the American Society for Aesthetic Plastic Surgery and the American Society of Plastic Surgeons. Dr. Lintner is available for interview upon request.
For more information about Dr. Lintner and his practice, please visit tomlintnermd.com, atlantamommymakeover.com, and facebook.com/tomlintnermd.
Contact:
Advanced Aesthetic Surgery
Marietta Office:
711 Canton Rd NE
Suite 400
Marietta, GA 30060
Woodstock
 Office:
120 N. Medical Parkway
Suite 200
Woodstock, GA 30189
(770) 771-5151
Rosemont Media
858-200-0044
www.rosemontmedia.com